Items on Sale
While my wife is very patient with me, I'm now getting to a point where I have to sell some of the items I built or bought in the past because I'm running out of space. I'm one of these hunter-gatherers having a hard time to give away especially those things I personally built for myself with fun and passion. Anyways, here are the parts I have currently for sale. Prices given can be regarded as "target price". S&H has to be discussed on an individual basis. Contact me for furhter details if you are interested.
Location of the offered goods is Düsseldorf. / Die angebotenen Teile können auch in Düsseldorf angeholt werden. Und ich spreche Deutsch und bin gebürtiger Düsseldorfer. Die Seite ist lediglich in englisch, weil ich viel von dem, was ich hier mache, aus dem englisch sprachigen Raun habe.
This is not commercial bussiness! It's just a private sale of things I built initially for myself!
Dinge zum Verkauf
Obgleich meine Frau sehr geduldig mit mir ist, bin ich an einem Punkt angelangt, wo ich mich von einigen Dingen trennen muss, da ich schlicht weg keinen Platz mehr habe. Ich bin einer dieser Jäger und Sammler Typen, dem es insbesondere bei mit viel Herz und Leidenschaft gebautem schwer fällt sich letztlich von etwas zu trennen. Nun ja, aber hier sind sie nun, die Dinge die zum Verkauf stehen. Preise verstehen sich als Zielpreise. Versand muss individuell geklärt werden. Bitte mailt mich bei Interesse einfach an.
Es handelt sich nicht um gewerblichen Verkauf. Vielmehr ist es der private Verkauf von Einzelstücken, die ich ursprünglich für mich gebaut oder gekauft hatte!
Klipschhorn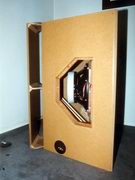 The famous Klipschorn by Paul W. Klipsch. Based on a 3D CAD model. Clear coated. With diecast frame driver. SOLD
Das berühmte Klipschorn von Paul W. Klipsch. Basierend auf einem 3D CAD Model. Klarlack. Mit Druckgusskorb Treiber. VERKAUFT
If you should be interested, I'll provide additional information and pictures.
Bei Interesse kann ich gern weitere Fotos mailen.
erik[NOSP@M]forker.de ⇐ please replace [NOSP@M] with @